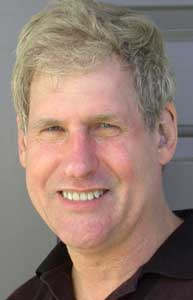 The
Secret Sales Pitch
An Overview of Subliminal Advertising
How media manipulates the unconscious;
How to use subliminal techniques to enhance
advertising and art.

A live, multi-media presentation
Since the 1950s, optical illusions have been secretly embedded in mass media in order to manipulate the public unconsciously. These subliminal images are extremely provocative, and involve nightmarish monsters as well as many forms of erotica. In addition, pictures with subliminal meanings understood only on an unconscious level have secretly aroused viewers' innermost fears and fantasies.
August Bullock is an attorney who presents the evidence of subliminal advertising as though he were addressing a jury.
"Bullock's show is startling...The overall impact is convincing."--Steve Hart, Santa Rosa Press Democrat
"Bullock's prove-it-to-the-jury approach to explaining the psychology of subliminals presents a powerful case for those who may be skeptical about the effectiveness of such tactics." --Damon Orion, Santa Cruz Good Times

You will never watch a commercial, make a sales presentation, or look in the mirror the same way again.
SEMINAR CALENDAR:
FEBRUARY 11, 2004
SAN FRANCISCO STATE UNIVERSITY

MARCH 17, 2003
SAN FRANCISCO STATE UNIVERSITY
APRIL 28, 2004
UNIVERSITY OF SAN FRANCISCO
MAY 4, 2004
SAN JOSE STATE UNIVERSITY
sponsored by the Spartan ad society
OCT 13, 2004
CAPITOLA BOOK CAFE

NOVEMBER 9, 2004
SCOTT'S VALLEY LYON'S CLUB
JANUARY 12, 2005
SANTA CRUZ ROTARY CLUB
Saturday, January 15 at 12:00 Midnight
Los Angeles Talk Radio
The Bradley Quick Experience
http://www.bradleyquick.com/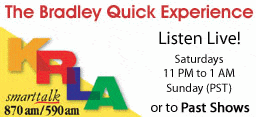 JANUARY 20, 2005
UCLA
KERCKHOFF HALL, GRAND SALON
12:00Noon - 1:30 PM
308 Westwood Plaza, Los Angeles, CA 90024
Sponsored by Campus Events
Free Admission
Press Release
FEBRUARY 17, 2005
THE ILLUSTRATOR'S CLUB OF WASHINGTON D.C.
THE SUMNER SCHOOL
7:00 PM
1250 17th Street, across from the National Geographic Society Headquarters
at 17th and M Streets.
Metro: 3 blocks from Dupont Circle (on the red line) and Farragut West (on the Blue/Orange Line).
Admission $15.00 for members, $20.00 for non members
Press Release

Saturday, July 17, 2005
BORDERS BOOKS
150 South First Street, San Jose
6 - 8 PM